Calendar
MACRA and/or Wellness Conference
Wednesday, March 29, 2017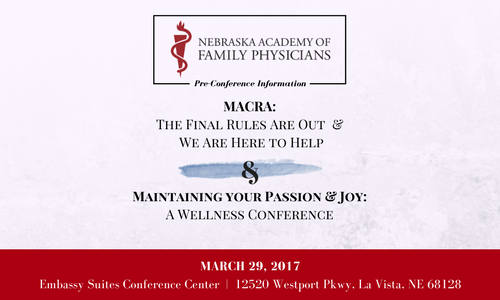 Location:
Embassy Suites La Vista, 12520 Westport Pkwy, La Vista, NE 68128
Description:
MACRA Conference: NAFP leadership feels that MACRA will greatly impact our future. The leadership has been following this closely since hosting the conference, MACRA: The Good, The Bad and What it Means for the Future of Health Care last year, and they now have new information to share with you since the final rules are out. We will be hosting a half-day conference on Wednesday morning, March 29, 2017 from 8:00 AM to 12:15 PM at the Embassy Suites La Vista to discuss the MACRA final rules.

MACRA Speakers:

1) Shawn Martin: Martin, senior vice president, advocacy, practice advancement and policy at the AAFP, is responsible for overseeing the AAFP Division of Government Relations and the Robert Graham Center for Policy Studies in Family Medicine and Primary Care in Washington, DC, as well as the Division of Practice Advancement at the AAFP headquarters in Leawood, Kansas. In this role, he directs legislative private sector advocacy on issues such as physician payment and medical liability reform. Prior to joining the AAFP senior management team, Martin served as director of government relations and health policy and director of socioeconomic affairs at the American Osteopathic Association.

2) Dr. Robert Wergin: For over two decades, Dr. Wergin has been practicing as a family physician. He joined the NAFP in 1982. Since that time, he has been very involved with the Nebraska Academy including being a Past President, chairman of many committees, and the 2002 Nebraska Family Physician of the Year. He most recently served as the 2015-2016 American Academy of Family Physicians Board Chairman. As a practicing family physician in Seward, NE, Dr. Wergin has enhanced the quality of life for his community. He is a constant advocate for developing the Patient-Centered Medical Home (PCMH) model in Nebraska as well as for shaping the national policy on MACRA. Wergin currently serves as the committee chair for the Nebraska PCMH Task Force Group.

- - - - - - - - - - -

Wellness Conference: It's time to take a step back and focus some of our energy on taking care of ourselves. Join us on Wednesday afternoon, March 29, 2017 from 1:15 - 5:00 PM, as we take the first step in creating a healthier you.

Wellness Keynote Speaker:

1) Dr. Clif Knight: H. Clifton "Clif" Knight, MD, FAAFP, became Vice President for Education in May 2014. He oversees all organizational activities related to medical education and continuing medical education. These areas include education and training of medical students and residents student interest in the specialty of family medicine, federal policies that affect graduate medical education funding; and CME curriculum development, production, and accreditation and regulations. Dr. Knight has guided the AAFP efforts to address family physician well-being by emphasizing education on this topic and the tools needed.
Previously, Knight was a family physician in Indiana for nearly 25 years. He served as chief medical and academic officer for Community Health Network in Indianapolis, where he was responsible for patient safety, medical education, research and medical staff support. Knight was previously in private practice in rural Flora, Indiana. From 2011-2015, he served on the Board of Trustees for Marian University in Indianapolis. He served on the Admissions Committee for the Marian University College of Osteopathic Medicine, which admitted its inaugural class in August 2013. Knight served in an appointed position on the Indiana Medical Education Board, which oversees state grant funding for family medicine residency programs in Indiana. He also served on the Indiana State Medical Association's Commission on Physician Assistance.

This form stopped accepting submissions on March 29, 2017 12:00 am CDT.